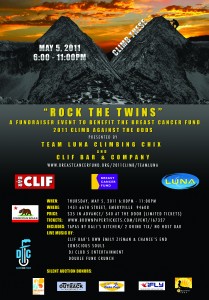 Come Join Ryan and me at the beautiful new headquarters of Clif Bar & Company on Thursday, May 5th.
The shindig starts at 6pm and the fun doesn't simmer down untill about 11pm.
Expect music, dancing, food and bevvies, silent auction etc. There may even be some drunk people to laugh at (Me included).
Bring some cash to throw at the fine women who will be climbing to the top of Mount Shasta to raise awareness about Breast Cancer Prevention.
the Deets:
where: CLIF BAR headquarters
1451 66th street
Emeryville CA 94608
When: Thursday, May 5th at 6pm
Why: Because breast cancer kills Boobs! We MUST STOP IT!!!
Love ya!