On Thursday of this week,  my music partner and collaborator Ryan Avery and I shoved off on our tour to Southern California.    This is a big deal for me because, while Weed & Wildflowers is my second solo album, this is my first official music tour.   I have to admit that, as excited as I am to be on the road, it's a bit terrifying.
The decision to go on tour was made relatively recently so we had no time to waste with planning.   We spent the better part of the last few months cramming our calendar with as many gigs as we could and gratefully accepting the support and assistance of our friends and family whenever offered.
Ryan is a human encyclopedia when it comes to budgeting, planning and marketing for these kinds of things.  Being the main brain behind the Violin Electronic act Chance's End, he has been doing this music thing far longer than I have.  In fact,  he's sharing his knowledge in case any of you fine folks are considering a tour of your own.
Needless to say, I was put to work immediately with venue soliciting, contacting radio stations and local publications to see if they would add us to their event listing pages.   This kind of work is time consuming and generally met with a bunch of radio silence.  It would be entirely discouraging if we didn't receive any feedback at all.  However,  it did make those instances that we received a genial " Sure!  What are the deets?" all the more rewarding.
Our first stop on this trip was what Ryan calls a "Keystone Gig."  This event is generally the reason for the tour as it tends to provide the heaviest turnout.  The rest of the tour is typically built around it along the way.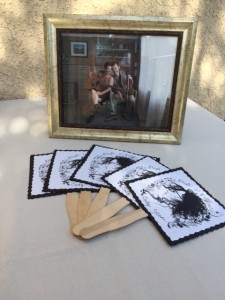 Our keystone gig on this trip was a house concert at the home of my aunt and uncle.  They are some of my (and the entire family's) biggest supporters and are geniuses at creating a genuine buzz of excitement and joy wherever they go.  Needless to say, they put on a stellar party.
Because Ryan and I are still expanding our reach as an acoustic duo, opportunities like these are golden.   There were roughly 60 people in attendance, almost none of whom had ever seen us perform a live show.
I would say that, given the number of years Ryan and I have performed together and that house concerts are kind of our jam, we brought a very fine performance to our crowd.  We sold a number of CDs and collected a lovely set of contacts for our mailing list.  There was even talk of making this an annual event.  I would consider that a roaring success for our punchy little band.
I want to say that I am extraordinarily lucky.  I have a motivated and talented partner who believes in the music we make.  I have an exceptionally supportive family who goes out of their way to showcase us and provide a hub for our travels.  Without these people in my life, this journey would have a much bumpier road under it.
It is situations like these wherein I am reminded of how absolutely blessed I am.
Next stop on tour is house concert number 2!  Wish us luck!