Hey Folks!
It's been a while since I've posted much on the site, but there is  a good reason!    Ryan and I have been busying ourselves with planning and rehearsing for our first Southern California tour about which I will share more very soon.
But FIRST! We've got a SUPER exciting gig just around the corner for which we've been making ourselves all bright and shiny.    This will be a chance to see the whole band in action!  If you've been meaning to make it out to one of my shows, this would be the show for you!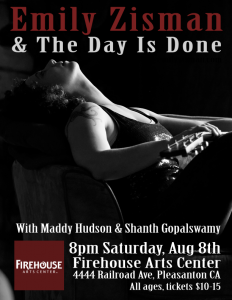 The Firehouse is an amazingly cozy venue with stellar sound nestled within a loving, supportive community.   We will be the featured act for the evening.  But be sure to come early for a good seat and to catch the opening acts, Maddy Hudson and Shanth Gopalswamy.
Maddy Hudson was a past contestant on American Idol and managed to make Jennifer Lopez cry with he voice (my kind of singer!)  check out the clip here.
No shows listed at the moment.
Mark your calendars and we hope to see you next week!