Down The Doors CD release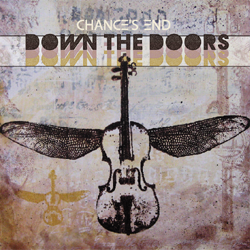 We are thrilled to finally announce that "Down The Doors" is available for purchase at CD Baby! It was a long road to get here, but I hope you all agree that the wait was well worth it.
You can find the album on iTunes, Amazon.com,Bandcamp, CDBaby, and other retailers.
With this album "Down The Doors", songwriter Emily Zisman has joined Chance's End with her soulful blues-infused vocals, adding to the violin-electronica sound that made up the last album "The Outsider". This new album brings a heavy focus on lyrical songwriting and lush orchestral string backings on top a bed of trip-hop and downtempo breakbeats.
Head over to Bandcamp to stream the album in full, or go to CD Baby to buy it now! Please note that we DO expect the first shipment to sell out quickly, but if it's listed as Sold Out then please order anyways – it will be shipped to you as soon as the next batch arrives at the distributors. The more people that order this week, the higher our ranking on the sales charts!
Calling our street team
Do you want to help promote our new CD? If so, then thank you! Here's what you can do:
1. Share our Bandcamp page on Facebook: http://chancesend.bandcamp.com/album/down-the-doors
2. Review the album at CD Baby: http://www.cdbaby.com/cd/chancesend3
3. Tweet a link to a free download of the first single "Sleeping On The Interstate": bit.ly/IixcY9
Of course, we know you all have some awesome ideas of your own about how to help get word out about Chance's End. If so, put them into action and let us know if you need any help. In the coming months we have a few things in the works such as a CD release party, a remix competition, and a small local tour around California.
"…a pioneer of the combo of violin and electronica"  Marc Urselli-Schaerer, Chain D.L.K.